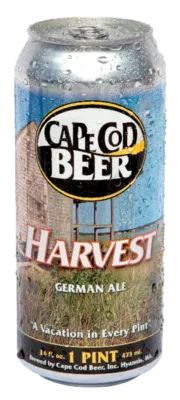 Availability: August 22, 2022 – unit it's gone!
Style: German Ale
Description: Mild and drinkable
This smooth, straw-colored ale is similar to an Oktoberfest. It's brewed with a blend of six malts with just enough noble hop character to provide a balanced finish. Cape Cod Harvest is an award winner, earning Gold multiple times at the Great International Beer Festival. Prost!
Malts: Pale, Munich, Vienna, Cara Pils, Wheat, Black
Hops: Perle, Liberty, Saaz
Food Pairing: Sausage, poultry, pork, Mexican
Awards: 1st Place in the category of German Style Alt Bier at the 18th Great International Beer Festival, 1st Place in the category of German Style Alt Bier at the 23rd Great International Beer Festival
Packaging (subject to availability): 16 oz. cans, 64 oz. Growlers, 32 oz Howlers, & on tap
ABV: 5%   IBUs: 18 OG: 11.9°P (1.048SG)