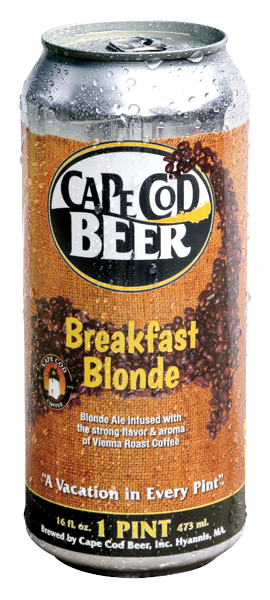 Availability: June 2023 – until it's gone!
Style: Coffee Blonde
Description: Light & Bold
Breakfast Blonde is an unexpected combination of flavors made in collaboration with our friends at Cape Cod Coffee. Enjoy the light toastiness of our Blonde Ale enhanced by the dark roastiness of their popular Vienna Roast Coffee. This light brew has a crisp and clean base with strong aromas and flavors derived from the single source coffee beans. Breakfast… it's the most important beer of the day!
Malts: Canadian Two Row, English Wheat, German Vienna & Carapils
Hops: Domestic Northern Brewer & Cascade
Packaging: On draft at the brewery with a limited amount of 16oz cans to take home!
ABV: 4.9% IBUs: 10 OG: 11.5 °P (1.046SG)