Let's Talk Climate Over a Cape Cod Beer with Climate 350
March 28, 2019 @ 6:30 pm

-

8:30 pm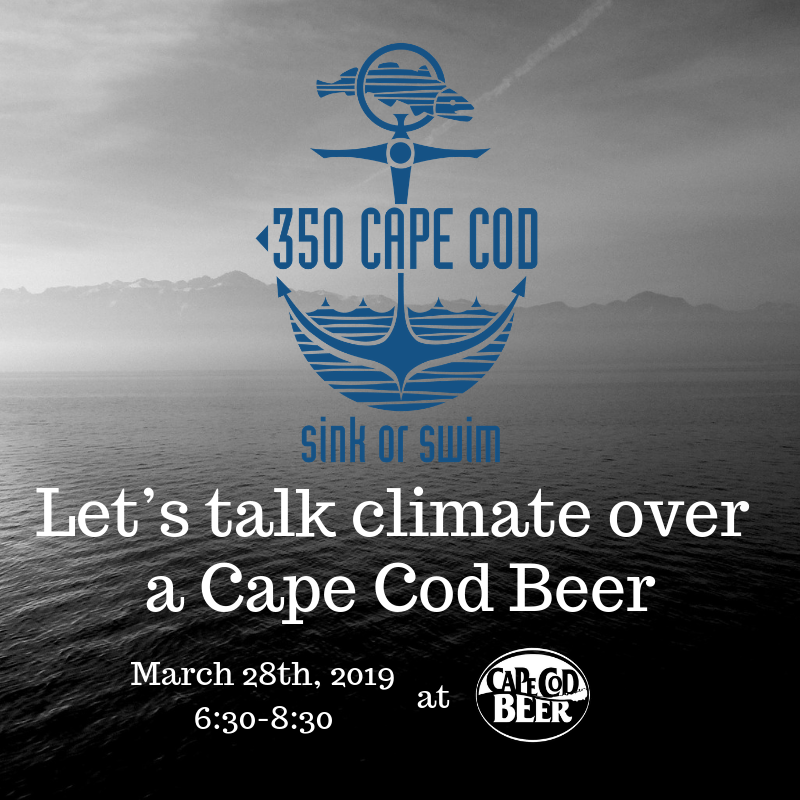 Green New Deal, Green Energy, Green Diet
We're hosting a FREE 350 Climate Cape Cod Community Conversation event with 3 presenters:
Dylan Fernandes is a State Representative currently serving in the
Massachusetts House representing Martha's Vineyard, Falmouth and
Nantucket. He has been serving since 2017. Born in Falmouth,
Massachusetts, Fernandes graduated from College of Charleston in
2013. Rep. Fernandes will give an update on climate legislation in the
statehouse and on the federal Green New Deal proposal.
Carol Oldham is executive director of the Mass Climate Action
Network, a nonprofit focused on fighting climate change at the local
level. She will discuss green aggregation, an emerging approach to
substantially increase community-wide purchasing of renewable
energy while building demand for new green power projects in New
England.
Dr. Jane B. Ward was a career US Air Force ophthalmologist and
flight surgeon, earned a Master's of Public Health from Georgetown
University, and has been a green building advocate and educator
involved in sustainability planning for the cities of San Antonio and
Washington D.C. She is certified in Lifestyle Medicine and aims to
become a partner with patients through plant-based and whole food
nutrition, exercise, and stress management. Lifestyle Medicine
involves teaching people to eat to optimize their health which will also
be the best for planetary health.
For more information about Climate 350 Cape Cod click HERE
Related Events