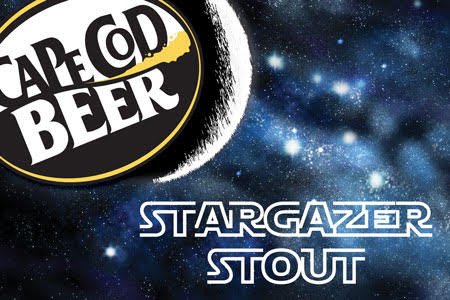 OG: 15.3 °   ABV: 5.0%   IBUs: 35
Availability: February 13, 2015-until gone
Style: Milk Stout
Description: Creamy and delicious
When March rolls around people usually start thinking of St. Patrick's Day. In the beer world that means stout! Cape Cod Beer is excited to present "Stargazer Stout," a milk stout by style. Milk Stouts (sometimes referred to as sweet stout or cream stout) are made by adding lactose. Due to lactose being unfermentable by beer yeast, it adds body and sweetness to the finished beer. This beer is only available at the brewery directly.
Malts: Pale, Roasted Barley, Flaked Barley, Cara-Munich 60, and Chocolate.
Black Hops: Magnum and Willamette
Food Pairing: Highlights the nuttiness & braised caramelized integrity of dishes with brown savory sauces. Pairs well with oysters on the 1/2 shell.
Packaging (subject to availability): growlers, 22's and on draft.